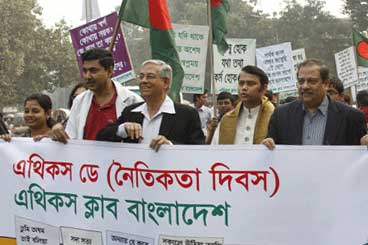 On January 1, 2011, Scholars Bangladesh's organization 'Ethics Club Bangladesh' celebrated the first Ethics Day in Bangladesh at Dhaka University's Hakim Chatter. The event started with a colorful procession at the premises of Dhaka University.
Former Bangladesh Bank Governor Mohammad Farasuddin led the procession. At this time, the members carried banners. Farasuddin recited the oath. After that, the discussion session on 'Humanity and Patriotism' started.
Speaking as the chief guest at the discussion meeting, Professor Anisuzzaman said, 'The sources of morality that once existed in our country have been destroyed. These are not taught in textbooks anymore. We have to come out of this situation to prevent the replacement of morality.'
The guests on the occasion were –
National Professor Anisuzzaman
Governor of Bangladesh Bank Dr. Atiur Rahman
The former governor of Bangladesh Bank, Mohammad Farasuddin
Professor Dr. Ziauddin Ahmed and others participated.